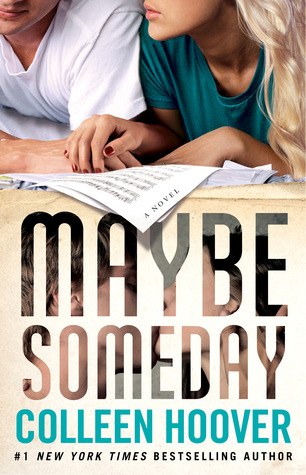 Maybe Someday by Colleen Hoover
My rating: 3 of 5 stars
Received: bought
Publication Date: March 18th 2014
Publisher: Atria Books
Pacing: good
POV: 1st person & alternative–female and masculine
Genres & Themes: New Adult, Contemporary, Romance, Music.
BLURB:
At twenty-two years old, aspiring musician Sydney Blake has a great life: She's in college, working a steady job, in love with her wonderful boyfriend, Hunter, and rooming with her good friend, Tori. But everything changes when she discovers Hunter cheating on her with Tori—and she is left trying to decide what to do next.
Sydney becomes captivated by her mysterious neighbor, Ridge Lawson. She can't take her eyes off him or stop listening to the daily guitar playing he does out on his balcony. She can feel the harmony and vibrations in his music. And there's something about Sydney that Ridge can't ignore, either: He seems to have finally found his muse. When their inevitable encounter happens, they soon find themselves needing each other in more ways than one…