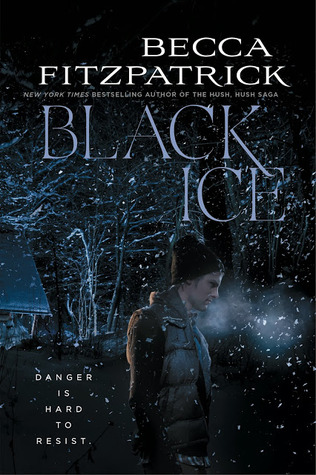 Black Ice by Becca Fitzpatrick
My rating: 3 of 5 stars
Received: publisher
Publication Date: October 7th 2014
Publisher: Simon & Schuster
Pacing: fast
POV: 1st person & female
Genres & Themes: YA, Contemporary, Thriller, Mystery, Romance.
BLURB:
Sometimes danger is hard to see… until it's too late.
Britt Pfeiffer has trained to backpack the Teton Range, but she isn't prepared when her ex-boyfriend, who still haunts her every thought, wants to join her. Before Britt can explore her feelings for Calvin, an unexpected blizzard forces her to seek shelter in a remote cabin, accepting the hospitality of its two very handsome occupants—but these men are fugitives, and they take her hostage.
In exchange for her life, Britt agrees to guide the men off the mountain. As they set off, Britt knows she must stay alive long enough for Calvin to find her. The task is made even more complicated when Britt finds chilling evidence of a series of murders that have taken place there… and in uncovering this, she may become the killer's next target.
But nothing is as it seems in the mountains, and everyone is keeping secrets, including Mason, one of her kidnappers. His kindness is confusing Britt. Is he an enemy? Or an ally?
REVIEW:
Hmm, this is a hard one to review. While I would change a few—many—things about the characters, I still enjoyed it and found it suspenseful and unpredictable.
I did see some things happening but then there were always those details and new information that made me doubt. It was pretty well done. The author did a good job step from paranormal (Hush, Hush) to thriller. I was surprised by the course of events in the plot.
The way this story begins, you will think that maybe it's going to be one like so many many other stories attempting to achieve being thrilling as well as suspenseful and captivating. Well, it is not an attempt in this case, since the author actually succeeded with all of those elements..
As for the main character, Britt, that so many reviewers seem to complain about…what can I say? She does do stuff you could roll your eyes at or just say ''Damn girl, how could you do that?'' but what is good is that she gets a character development.
Also, the fact that Britt went through something so shocking—being kidnapped—did make me sympathize with her character and start seeing her more like a girl who did not deserve to be held captive when she was expecting to spend a nice weekend with her best friend (and this latter's brother) in the mountains than a spoiled one. And the fact that she tried with all her heart to free herself and help her best friend did get my respect.
Basically, she's not the worst character ever. Not at all.
The writing was great, but that didn't surprise me since I wasn't expecting less from Becca Fitzpatrick, having read her Hush, Hush series and loved it. She just has such a way of writing that makes it seem like it's so easy for her and that the words they just come naturally in her mind.
The story may not have felt realistic, but the writing made up for it for sure. I can't believe everything that happened in this story because it's a little complex and involving too many characters and situations that aren't ones on which people normally base themselves to murder people but then again…it can happen, nothing's impossible, unfortunately—in this context.
I'm still not sure if I enjoyed the romance or not…because love-triangle. Well, not the usual kind but a love-triangle stays a love-triangle, right? And for this one it is hard to determine if it worked well because the love interests aren't angels and there's this thing about each of them that would make you back away but also get you very curious. I'm in a dilemma right now but what I know is that it wasn't bad. Interesting to read about actually.
It would have been good if there were more of a developed friendship between Britt and Korbie. Britt kept saying that Korbie was her best friend but that wasn't a very healthy friendship, in my opinion. I mean, Korbie compares herself to Britt way too much for it to be normal and not intense jealousy.
I think this is worth the shot. Maybe you won't like the main character at first but, please, don't let her self at the beginning of the story make up your definitive mind about her. Give her a chance; she deserves one, in my opinion.
My review on Goodreads.