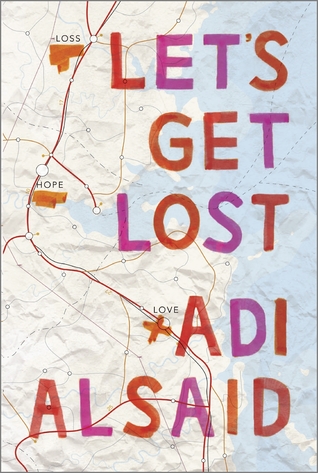 Let's Get Lost by Adi Alsaid
My rating: 2 of 5 stars
Received: bought
Publication Date: July 29th 2014
Publisher: Harlequin Teen
POV: 3rd person and multiple (5)
Pacing: fast
Genres & Themes: YA, Contemporary, Romance, Travel, Family, Friendship.
BLURB:
Five strangers. Countless adventures. One epic way to get lost.
Four teens across the country have only one thing in common: a girl named LEILA. She crashes into their lives in her absurdly red car at the moment they need someone the most.
There's HUDSON, a small-town mechanic who is willing to throw away his dreams for true love. And BREE, a runaway who seizes every Tuesday—and a few stolen goods along the way. ELLIOT believes in happy endings…until his own life goes off-script. And SONIA worries that when she lost her boyfriend, she also lost the ability to love.
Hudson, Bree, Elliot and Sonia find a friend in Leila. And when Leila leaves them, their lives are forever changed. But it is during Leila's own 4,268-mile journey that she discovers the most important truth— sometimes, what you need most is right where you started. And maybe the only way to find what you're looking for is to get lost along the way.
REVIEW:
And predictable. And unrealistic for a contemporary. Yet, it was fast-paced and I actually read it in one sitting.
There are, we can say, five short stories inside this book but they are linked to one another thanks to a same character who is present in each of them: Leila.
Leila is something of a mystery throughout the story. She comes out of nowhere, the only thing she tries doing is to help people (but for Hudson's case, it wasn't helpful to him at all what she did.) She's nice with those characters which all had something on their heart that needed fixing. Although, the fact that her road trip brought her to those person and that she every time stumbled upon great ones, was very unrealistic.
She could have been in danger so many times. Just the fact of traveling alone in a car without much is alarming in the first place.
As I said, there are five different stories and POVs:
Hudson's: He repairs cars, waiting to finally go to his interview to get his scholarship which will help him study to become a doctor in a good college. And then there's Leila who arrives and makes his world go upside down. There is insta-love between them and it was so cheesy and eye roll-worthy.
Bree's: Bree's mostly on her own, having left her sister's place. It's a bit more than that but basically she kissed her fiancé and then left for dead. She does illegal things along with Leila who she met randomly needing a ride. Things happen and they both end up breaking the law, bringing trouble upon them.
Elliot's: Oh, man, this was the cheesiest and more clichéd story of them all. His best friend is a girl. Guess what? You guessed right! He's in love with her but his friend does not think of him in that way. When he attempted to kiss her, she ran away. Then he meets Leila who helps him get the girl. Of course.
Sonia's: This one's predictable as hell. Sonia was married before but her husband, Sam, died. Then, she, not long after, meets somebody else who she actually comes to love. Except, you may think it's a good thing, but she doesn't feel like it's right thinking that she may betray her soul mate, Sam. Who died, as I mentioned. This time, Leila doesn't try to bring Sonia and her boyfriend (who wants space and clarification since Sonia's not 100% in in their relationship) back together but since something else is more urgent. STILL, the turn of events is clear as water. No mystery. Nothing to discover since we can guess it all.
Leila's: The final part is reserved to Leila's story. In that one, we come to know more about her and why she's on the road in the first place. This was in fact my favourite story since I really wanted to know more about the main character from the very first page. The ending is predictable as well and I personally thought disappointing for I wanted this story to have a deeper meaning and not the usual one we can find in any YA contemporary romance book.
In general, it wasn't a bad read but definitely too cheesy and cliché. The concept is interesting but it wasn't executed the right way. This will definitely not please everyone and I in fact don't recommend it for there are so many YA books out there that surpass this one and deserve to be read much more.
My review on Goodreads.