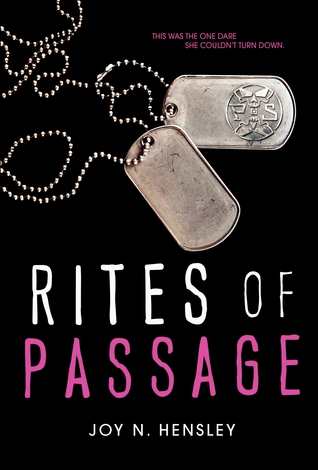 Rites of Passage by Joy N. Hensley
My rating: 4 of 5 stars
Received: bought
Publication Date: September 9th 2014
Publisher: Harper Teen
POV: 1st person & female
Pacing: slow
Genres & Themes: YA, Contemporary, Realistic Fiction, Military, Romance.
BLURB:
Sam McKenna's never turned down a dare. And she's not going to start with the last one her brother gave her before he died.
So Sam joins the first-ever class of girls at the prestigious Denmark Military Academy. She's expecting push-ups and long runs, rope climbing and mud-crawling. As a military brat, she can handle an obstacle course just as well as the boys. She's even expecting the hostility she gets from some of the cadets who don't think girls belong there. What she's not expecting is her fiery attraction to her drill sergeant. But dating is strictly forbidden and Sam won't risk her future, or the dare, on something so petty…no matter how much she wants him.
As Sam struggles to prove herself, she discovers that some of the boys don't just want her gone—they will stop at nothing to drive her out. When their petty threats turn to brutal hazing, bleeding into every corner of her life, she realizes they are not acting alone. A decades-old secret society is alive and active… and determined to force her out.
At any cost.
Now time's running short. Sam must decide who she can trust…and choosing the wrong person could have deadly consequences.
REVIEW:
''We'll go back, pack up your stuff, and I'll take you to Tim Stamm's house until we can figure out what to do about transferring you to the public high school.''

''I'm not leaving.''
Bravo! That's how you write, build and develop a strong, fearless, courageous and admirable heroine. Sam is one unforgettable and inspiring character.
Exactly what we needed for this kind of story; someone who will show and prove us what we, as human, are truly capable of, if only we persevere and work hard without looking behind us but ahead of us.
Not only is this inspiring and motivating us to do whatever we dream of or feel the need to accomplish, but it also features some other great themes such as discovering what family is all about, how friendship is built and, yes, some less wonderful ones like betrayal but fortunately also how to move past that and just… keep going.
It's not an easy read, more likely a deep one because of the subjects that are included and seeing how much Sam struggles can affect some people more than others. I was very frustrated at first because of the person giving Sam such an unconceivable hard time but then her determination got the best of me and I kept believing she will succeed in this military school, whatever people did to bring her down and make her quit.
Almost every student was on her back…yet she kept waking every morning, following orders with as many yells and going to sleep with a hidden ache in her stomach but also with the feeling that she had survived the day and the hope that tomorrow she will as well. And, you know what? I completely believed her.
Sam may have chosen to go to military school because of a bet, but we can also see that she, whatever everyone may think or make her imagine, has her place there. She deserves a place there.
Of course, there is some romance in this story…but also some kind of a love-triangle. Not a super present and heavy but actually a gradual one. What I mean by that is that we first get to know the first love interest and then another one embarks. Not quite both at the same time. It worked out in this book well enough and has a more convenient turn of events that most love-triangles have.
The writing was good but you should maybe know that the story is not fast-paced. That may be the reason why I felt like this story was a little too long and that cutting or shorting some scenes/chapters would have been welcome to ameliorate (even more) my reading experience. Still, when you get suck in the story, that won't be such a problem anymore.
What is surprising is that I never thought of reading this story in particular before seeing how praised it was by reviewers. You see, military stories don't easily capture my interest. Yet, this one succeeded and I'm very glad I decided to give it a chance. A very recommended beautiful story containing a message you won't risk to forget anytime soon.
Would you consider voting for this review on Goodreads, if it was helpful?