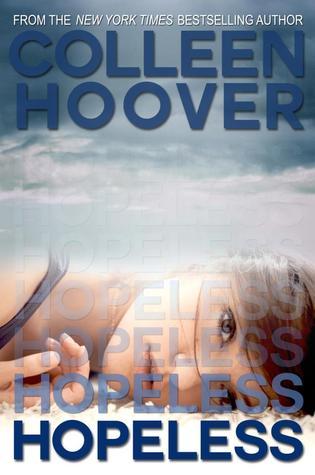 Hopeless by Colleen Hoover
My rating: 4 of 5 stars
Received: Amazon freebie (!!!)
Publication Date: December 19th 2012
Publisher: indie
Pacing: very slow
POV: 1st person & female
Genres & Themes: New Adult, Romance, Contemporary, Abuse, Love, Secrets, Family, Friendship, Trust.
BLURB:
Sometimes discovering the truth can leave you more hopeless than believing the lies…
That's what seventeen-year-old Sky realizes after she meets Dean Holder. A guy with a reputation that rivals her own and an uncanny ability to invoke feelings in her she's never had before. He terrifies her and captivates her all in the span of just one encounter, and something about the way he makes her feel sparks buried memories from a past that she wishes could just stay buried.
Sky struggles to keep him at a distance knowing he's nothing but trouble, but Holder insists on learning everything about her. After finally caving to his unwavering pursuit, Sky soon finds that Holder isn't at all who he's been claiming to be. When the secrets he's been keeping are finally revealed, every single facet of Sky's life will change forever.
REVIEW:
What a story!
I'm stunned.  Did I really read what I just read? Did the author really create such an impressive plot? While I didn't know who Colleen Hoover truly was before picking one of her works up (so glad I chose Hopeless!), now I do know; she's a brilliant contemporary romance author.
This is such a heartbreaking story. Yet, it does contain some beautiful moments of joy, swoony love and real honesty. That's what I preferred the most actually; how honest the main character was with us. She isn't that kind of NA main character that lies to herself all the time and makes us roll our eyes because we obviously know that she loves the guy and, even though she says she doesn't want him, everyone else knows she does as well.
It was a breath of fresh air. A heavy one though and provoking some many emotions inside of us but it was so incredible.
Sky may have become my favorite contemporary romance heroine of all time. Now I know that I haven't read that many contemporaries in my life, since my favorite genre is fantasy, but you can believe me when I say that that girl is everything you will look for in a main character; she's strong, stubborn, kind, brave, loving, caring, a good girl, , beautiful. A very beautiful person.
To be honest, I found the romance a bit too overwhelming by moments, especially right before Sky and Holder became officially a couple and mainly because the secondary characters started to 'disappear.' It's like the author did want to only focus on Sky and Holder's relationship but it started to, sometimes, feel cheesy and cheesy romance is not of my favorite sorts.
How can a normal human being not like—love, admire, swoon over, sigh when seeing, live—Holder? Because, yeah, even though I stated above that there were cheesy moments (and Holder was the main reason of those), you can't help but mark that character in your 'best-book-boyfriends' list because who wouldn't want to be loved by someone the way he loves Sky?
I know I do…
The second reason why I dropped a star is that the writing seemed to me a bit simplistic as in many words were repeated and that usually in the same paragraph. Maybe the author was aware of it. Maybe she did it on purpose but word repetitiveness is (and will always be) one of my pet peeves.
Finally, oh guys, you need to read this one. It will surprise, shock, impress, grip and absorb you into its story. And those wonderful characters, how happy I am for having 'met' them! They will stick with me for a good while. And so I hope the same thing will happen for you…
My review on Goodreads.