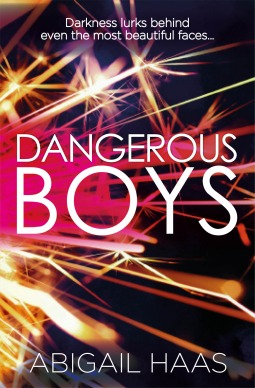 Dangerous Boys by Abigail Haas
My rating: 3 of 5 stars
Received: bought
Publication Date: August 14th 2014
Publisher: Simon & Schuster Childrens Books
POV: 1st person & female
Pacing: fast
Genres & Themes: YA, Romance, Contemporary, Thriller, Mystery, Secrets.
BLURB:
It all comes down to this. Oliver, Ethan, and I. Three teens venture into an abandoned lake house one night. Hours later, only two emerge from the burning wreckage. Chloe drags one Reznick brother to safety, unconscious and bleeding. The other is left to burn, dead in the fire. But which brother survives? And is his death a tragic accident? Desperate self-defense? Or murder …? Chloe is the only one with the answers. As the fire rages, and police and parents demand the truth, she struggles to piece the story together – a story of jealousy, twisted passion and the darkness that lurks behind even the most beautiful faces …
REVIEW:
No mind blown like with Dangerous Girls.
Mindfuck.
If you know Abigail Haas or have heard of her works, then you probably expect her to play with you and make you doubt and believe and then doubt again. Well, she does. And I bet she enjoys doing so very very much.
Even though I only gave this a three star rating (yes, some people believe it is a mediocre one), I would recommend reading not only to see how messed up—in a good and bad way—it is but also because it contains some interesting scenes worth knowing about. Although, I do believe that it will work differently for everyone, and probably depending on your personal values.
For example, family is very important to me so what the main character does in the story to her mother frustrated me and was in my opinion something very unacceptable. Same thing for her father. Loyalty is also an important value for me so that man went quite down in my estimation.
That's the problem; I didn't like any character in this book. They all had something that bothered me in some way. And the main ones were despicable. At some point, I did find Ethan nice but he is the kind of guy who always wants to be with you and believes that you're his. Here's the thing: I belong to myself and so does Chloe. I can understand why she started feeling trapped and uncomfortable around Ethan (yet I did not approve everything she did in consequence to that fact.)
Still, that love-triangle (the choice of her "new" love interest) was sigh and eye roll-worthy. It wasn't bad but it definitely won't work for everyone and it in fact can make the story sound predictable (while it's actually not, at least not throughout.) See, rivality between brothers for a girl has already been done so many times before. Plus, a romance usually works better without a love-triangle. Yet, it was part of the plot and was a very main element of the story so I came to tolerate it.
I heard some reviewers say that this was predictable enough but, darn, I wish I did predict some things besides a part of the romance! Because I didn't and had such a surprise discovering the whole truth.
Chloe was really something…I can't say much because I really don't want to spoil it for you, but she is one person you could try to analyze all day and not succeed to decipher her totally. Nice too…sometimes.Basically, she will make you question the plot, her gestures and everything else.
About the ending…what the hell? What.The.Hell? It's the kind of ending that will make you question (again) what is going to happen after you close the last page. I really feel like this needs a sequel but I don't know, at the same time, how that would work out. I'm just not pleased since interpreting endings is not what I love doing most after finishing a read. We will never know what will actually happen. It will always be what WE think it will.
The writing was fantastic and the plot fast-paced so this will definitely not be a read that will suck you into a boredom world in which you will reside until the end of the story. Well, that was detailed…but, I mean it; it is a page-turner.
My review on Goodreads.