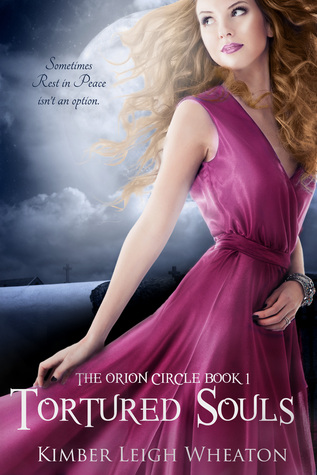 Tortured Souls by Kimber Leigh Wheaton
My rating: 3 of 5 stars
Received: NetGalley
Publication Date: July 28th 2014
Publisher: Sea Dragon Press
Pacing: fast
POV: 1st person & female
Genres & Themes: YA, Paranormal, Romance, Mystery, Ghosts, Friendship.
BLURB:
Sometimes Rest in Peace isn't an option…
Kacie Ramsey sees ghosts—and it's ruining her life. Her mother left, her father blames her, and no matter how hard she tries, she can't keep the ghosts away. Now a new power has emerged. Nightly visions of grisly murders and a relentless predator draw her to the brink of insanity.
When the phantom appears at a party, Kacie's longtime crush, Logan, saves her. He invites her to join the Orion Circle, a group of supernatural hunters with chapters in schools all over the country. Through the Circle, Kacie learns to embrace her spiritual powers, and for the first time in her life she feels in control rather than a victim.
But the Foxblood Demon will not give up so easily. A demented serial killer in life who trapped the souls of the thirteen children he murdered, imprisoning them within the walls of his mansion. Now in death, he plots his return while drawing power from the pure souls of the children. He recognizes something in Kacie he's never seen before—a medium powerful enough to provide a vessel for his tainted soul.
Kacie can't ignore the tortured souls of the children crying out to her every night. With Logan at her side, she will fight the Foxblood Demon. But can they banish this powerful phantom, or will Kacie lose not only her body, but her eternal soul to the monster.
REVIEW:
How old do you prefer your YA main characters to be? Personally, I think sixteen years old is the most popular age for this genre but I like when they're seventeen for they usually are more mature.
See, the main character in this book is fifteen. Fifteen. I remember that, when I was fifteen years old, I was very mature, unlike our lovely Kacie. (But I might be biased since sometimes I feel like I'm acting like a 25 year-old-person. Actually, Friday, my friends told me, after I asked them if I'm funny or at least fun in my personality—what? I was curious!—that I'm not and that I'm way too serious. Now I'm not sure if I agree with their answer but, the point is that I NEED mature main characters in my YA reads so I can actually connect with them.)
Now I'm not meaning to say that Kacie is a girly obsessed with boys and clothes kind of girl. It's just that I thought this was going to be a more serious story. Don't get me wrong, I enjoyed reading it because it was entertaining, fast-paced and not quite predictable. BUT, whenever there was a deep and tense situation, there were, most of the time, some character saying something stupid or unnecessary for that moment of seriousness to fall apart. Let's just say that the atmosphere isn't heavy at all.
Kacie (left) and her friends when they were in a ghost/creepy situation:
What I liked the most about this book was the writing. I LOVED IT. There was something about it that made me want to continue my reading and know more about every character, whatever my first impressions of each one of them were when they were presented.
There wasn't much of a world-building, sadly. I thought the Orion Circle concept was very interesting but it needs to be deepened in the sequels. Apparently it's all over the country so why not take the characters to visit another team in that circle? But then there's high school since, like I said, she's fifteen years old and some of the secondary characters go to school as well.
It was nice to see our Kacie reconcile with her father, who ignored her for most of her childhood but it was also very, as in very very very unrealistic. It took what? Less than a chapter for him to believe her that she does have special abilities, with the help of Logan? It did, even if her father took a bit of a time to think about all of that. And let's not start talking about the mother who abandoned her children—most specifically Kacie—because she has a gift.
The romance was light and mostly in the second plan of the plot which equals perfection. I don't know how you like your romance in paranormal YA stories, but I think that, as the genre says, we have to decipher that it is a paranormal book first and after, perhaps, a romance one.
Basically, this is fun, light, mystery-filled and especially fast-paced, which will keep you tied up to the story until the very last page.
Would you consider voting for this review on Goodreads, if it were helpful? ^_^