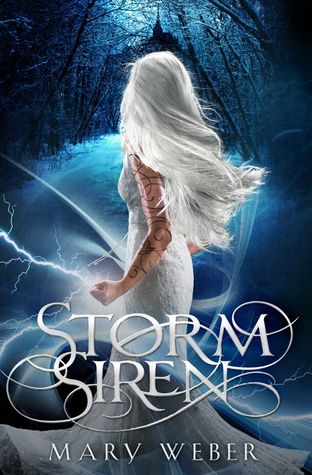 Storm Siren by Mary Weber
My rating: 1 of 5 stars
Received: NetGalley
Publication Date: August 19th 2014
Publisher: Thomas Nelson / HarperCollins
Pacing: very slow
POV: 1st person & female
BLURB:
In a world at war, a slave girl's lethal curse could become one kingdom's weapon of salvation. If the curse—and the girl—can be controlled.

As a slave in the war-weary kingdom of Faelen, seventeen-year-old Nym isn't merely devoid of rights, her Elemental kind are only born male and always killed at birth — meaning, she shouldn't even exist.
Standing on the auction block beneath smoke-drenched mountains, Nym faces her fifteenth sell. But when her hood is removed and her storm-summoning killing curse revealed, Nym is snatched up by a court advisor and given a choice: be trained as the weapon Faelen needs to win the war, or be killed.
Choosing the former, Nym is unleashed into a world of politics, bizarre parties, and rumors of an evil more sinister than she's being prepared to fight . . . not to mention the handsome trainer whose dark secrets lie behind a mysterious ability to calm every lightning strike she summons.
But what if she doesn't want to be the weapon they've all been waiting for?
Set in a beautifully eclectic world of suspicion, super abilities, and monsters, Storm Siren is a story of power. And whoever controls that power will win.
REVIEW:
Well, this is awkward. Every one of my friends who read this book either liked it or loved it. Sigh, I guess we all feel this way from time to time.
…Right?
Alright then, let me explain you why this book didn't capture my heart.
First off, I can't go on without saying that I had a feeling about this book. Somehow, I felt like I wouldn't enjoy it, and yes I admit that the cover had to do with it. At first glance, I didn't like the cover at all but, then, the more I looked at it, the more I got curious about the actual story and learned to appreciate that girl in a long white dress seeming to fight nothing but, a forest perhaps?
The most gigantic problem of this story, in my opinion, is that it doesn't contain any atmosphere. You see, there are some heavy or strong/important subjects in this book but, while reading about those, I felt…nothing. Same thing happened for The Girl from the Well (although I did like that one A BIT more.)
Also, there is a serious lack of world-building. It's as if the author thought we already know EVERYTHING about the creatures and magic and the war. And she didn't even bother describing us the characters in detail, tell us some information about them that could make them endearing to us, except for Nym's (main character) parents who died. That's about all we know about her and that she had many masters for she is a slave and killed a lot of people with her gift to make storms appear.
I was also very deceived by the romance. I'm not sure if I should call it a love-triangle since the second guy, Colin, is actually a player. Even though he was nice to Nym, he still tried to seduce her and I couldn't help but not feel bad for him being rejected and loose interest in his character.
Then there's the actual love interest, Eogan. I was sure I would fall in love with that guy…but then I kind of felt tired of the author always describing him as very handsome. Superficiality can annoy me when there is too much of it.
Plus, he kept pushing and pushing Nym in better controlling her power. I mean, I can understand that it's important for him and everyone since there is a war to start and she is supposed to be apart of it, but he wasn't romantic, sweet or swoon-worthy in the other scenes either.
Finally, the writing didn't appeal to me. There were many times when I felt like some sentences were cut in two to make an effect probably. It felt like trying too hard and that's one of the reasons why my reading experience wasn't pleasant.
So…yeah, I didn't like this book, unfortunately, but it doesn't necessarily mean you won't either!
Would you consider voting for this review on Goodreads, if it was helpful? ^_^