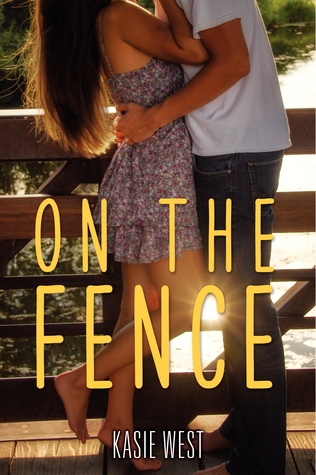 On the Fence by Kasie West
My rating: 3 of 5 stars
Received: gifted
Publication Date: July 1st 2014
Publisher: HarperTeen
Pacing: fast
POV: 1st person & female
Genres & Themes: YA, Contemporary, Romance, Sports, Family, Friendship.
BLURB:
For sixteen-year-old Charlotte Reynolds, aka Charlie, being raised by a single dad and three older brothers has its perks. She can outrun, outscore, and outwit every boy she knows—including her longtime neighbor and honorary fourth brother, Braden. But when it comes to being a girl, Charlie doesn't know the first thing about anything. So when she starts working at chichi boutique to pay off a speeding ticket, she finds herself in a strange new world of makeup, lacy skirts, and BeDazzlers. Even stranger, she's spending time with a boy who has never seen her tear it up in a pickup game.
To cope with the stress of faking her way through this new reality, Charlie seeks late-night refuge in her backyard, talking out her problems with Braden by the fence that separates them. But their Fence Chats can't solve Charlie's biggest problem: she's falling for Braden. Hard. She knows what it means to go for the win, but if spilling her secret means losing him for good, the stakes just got too high.
REVIEW:
Charlie is a sixteen-year-old teen who likes playing sports, especially soccer, watching sport games and hanging out with her three brothers.
She's not your typical teenage girl since she prefers watching a soccer game (or playing it) than go shopping or reading or going to the cinema, etc.
That's why she and I couldn't quite ever be best friends but she's a nice girl so, sure, we could at least get along. But, see, I'm the kind of the girl who will exclusively cheer for players and not be one myself, except if we're talking about badminton, dancing, cheerleading or gymnastics (which aren't in Charlie's list of sports to practice.)
The point is that I couldn't very much connect with her and…why is she wearing a dress on the cover? Yes, she has a bit of a character development and yes she does get more feminine but, the way I see it, that pretty little summer dress doesn't match her personality so when I look at that cover it doesn't feel like it's Charlie that I see with the guy.
While I think this was a clichéd story (I mean come on…you fall in love with your neighbour who you've known since being a child and it takes you to date another guy to see it? Yup, not impressed) and a quite unrealistic one, (who actually has that of a good relationship with their three brothers + father + gets a job without even wanting one?) it was also fast-paced, fun and I certainly had a good time reading it.
The romance was light and cute, absolutely typical of contemporary YA. Nonetheless, that didn't keep me from thinking it was good and lovely. Braden wasn't actually my favorite guy, even though he and Charlie get along very well and have much in common. I prefer Evan all the way. That's when I concluded that she and I are quite different. Is that a bad thing? Absolutely not. But in order to love a certain book, I like feeling some connecting to a main character and feel common interest.
I was lying, actually, when I truly thought she and I were not alike was when she said in the story that she doesn't know who wrote Pride and Prejudice.
Exactly! I couldn't believe my eyes! Maybe you would thing that it's okay (I'm not saying it's necessarily a bad thing) but that really killed the small connection I had with her because Pride and Prejudice is my favorite classic (and I'm in love with Mr. Darcy—who isn't? *winks*)
The writing was good and, in general, the story was interesting. Plus, even though the characters felt clichéd, I liked how the story went. It may have been predictable but there were always small things happening that made that fact not an obvious problem.
I would recommend this to anyone seeking a light contemporary read perfect for summer (especially if you're a fan of sports and characters similar to Charlie.)
Would you consider voting for this review on Goodreads, if it was helpful to you? ^_^