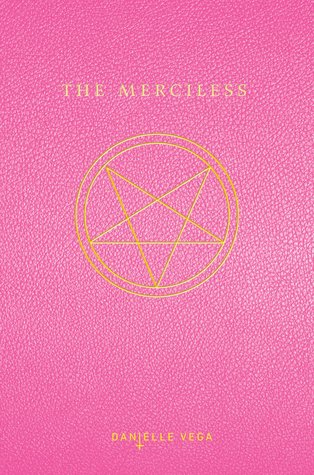 The Merciless by Danielle Vega
My rating: 2 of 5 stars
Received: borrowed
Publication Date: June 12th 2014
Publisher: Razorbill
Genres & Themes: YA, Paranormal, Creepy, Secrets.
BLURB:
Brooklyn Stevens sits in a pool of her own blood, tied up and gagged. No one outside of these dank basement walls knows she's here. No one can hear her scream.
 
Sofia Flores knows she shouldn't have gotten involved. When she befriended Riley, Grace, and Alexis on her first day at school, she admired them, with their perfect hair and their good-girl ways. They said they wanted to save Brooklyn. They wanted to help her. Sofia didn't realize they believed Brooklyn was possessed.
 
Now, Riley and the girls are performing an exorcism on Brooklyn—but their idea of an exorcism is closer to torture than salvation. All Sofia wants is to get out of this house. But there is no way out. Sofia can't go against the other girls . . . unless she wants to be next. . . .
REVIEW:
Okay…
Well that was weird…
And what's with that ending…?
Sofia…
I just realized that this is actually a series. Good thing I guess because that cliffhanger might have just killed me. I mean, finishing a story that way? Even though I didn't actually enjoy reading this book, I HAVE to know what happens. So WILL read the sequel.
It starts pretty contemporary-like with Sofia, new student in high school, meeting new people, both popular and unpopular ones-doesn't matter for her. We don't know much about the main character, so I didn't get why they all wanted to be friends with her. Exactly like the movie Mean Girls. I guess some thought she was…interesting? But, well, I didn't.
I can understand that this book is shelved as "horror" but I thought it was more disgusting than scary. Riley (most popular girl in school) wants to do an exorcism on Brooklyn (which she accuses from stealing her boyfriend) and it takes so so long. Basically, that's the whole plot (since it did take more than 60% of the book); the tentative to practice an exorcism on Brooklyn and discovering every character's sin. Of course, there are consequences to that and that's when it gets bloody.
Questions unanswered:

1) How did Brooklyn escape from that bathroom when the door was locked?
2) Why is Riley having an obsessing with nails? Creepy creepy obsession.
3) Is Sofia in love with Charlie and the other way around?
4) If yes, why? They just met!
5) Why don't we have a background on Riley and Brooklyn's stories-lives? I don't know anything about them, except that Riley is jealous, religious-very-and that Brooklyn likes tattoos, piercings and not following the rules.
The story is not whole bad. The pacing is fast, so it did capture my interest for a good time. I was curious to know if something really horrible and scary was going to happen but there wasn't, except for some raw and just disgusting things. Like crucifying someone with nails.
Told you, nail obsession.
What I really really didn't like was the author making me love some characters than making me hate them and love them again. I didn't even know what to think about them anymore. Were they all bad? Did I hate them because of what they did, each one of them? Could it be that I have pity for Riley or her two other friends? I was pretty much conflicted.
The writing is good so that wasn't a problem at all. Along with the pacing and curiosity to know what was going to happen next (even though I did get tired of the plot) brought me to the conclusion that this is an "okay" story.
I don't actually recommend it wholeheartedly, but I won't suggest you to stay as away as you can from this book either. Maybe some of you will like the creepy (but not scary) and disgusting elements. And let's not forget the twist. Maybe you'll love that wicked twist.
View all my reviews on Goodreads.