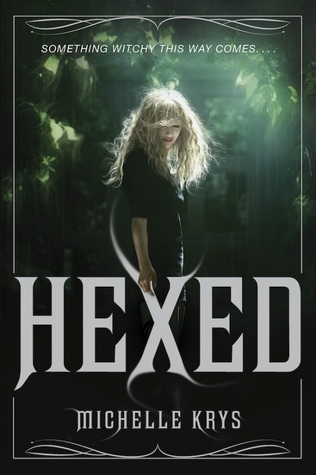 Hexed by Michelle Krys
My rating: 1 of 5 stars
Received: borrowed
Publication Date: June 10th 2014
Publisher: Delacorte Press
Genres & Themes: YA, Supernatural, Witches, Magic, Romance, Action.
BLURB:
If high school is all about social status, Indigo Blackwood has it made. Sure, her quirky mom owns an occult shop, and a nerd just won't stop trying to be her friend, but Indie is a popular cheerleader with a football-star boyfriend and a social circle powerful enough to ruin everyone at school. Who wouldn't want to be her?
Then a guy dies right before her eyes. And the dusty old family Bible her mom is freakishly possessive of is stolen. But it's when a frustratingly sexy stranger named Bishop enters Indie's world that she learns her destiny involves a lot more than pom-poms and parties. If she doesn't get the Bible back, every witch on the planet will die. And that's seriously bad news for Indie, because according to Bishop, she's a witch too.
Suddenly forced into a centuries-old war between witches and sorcerers, Indie's about to uncover the many dark truths about her life—and a future unlike any she ever imagined on top of the cheer pyramid.
REVIEW:
Finally, I'm done with it. And him.
I will never ever ever read it again.
And I will never ever ever read the sequel.
EVERY character, except for Indigo's mom, is despicable and I hated them all, especially Bishop, the most slap-worthy character I've encountered this year. He's all on making jokes (BAD ONES) every time. In every scene. Even when they're in danger. I was always wondering why? Why is he doing that? Does he think he's funny somehow? Or is he just one completely immature person?
Indigo…girl, you need a wake up call. She's always thinking what everyone could think of her. She doesn't want to help a girl, Paige, because she's afraid people will start to ditch her. OH NO! They could think she's hanging out with a 'loser', as the author kept describing her, and no one will ever speak to her again.
Please.
You know, this book is actually not that bad if we stop thinking about the characters for a second. It's fast-paced and has a good writing. The problem is what the author wrote about and the characters (that I kept wanting to shake!), of course.
The thing is this is the kind of book that, if I had a teen on my own (won't happen before many many years), I wouldn't let her/him read the book. Why? Because there is no wonderful message or something good that could stick with her/him or inspire her/him. It only makes us learn throughout the book that life in high school is a bitch, that we have to act and be cool to be popular and respected,that geeky people, like Paige, are treated poorly and are 'at the bottom' and that people are cheated and lied to constantly.
Sure, Indigo and Paige become 'friends', at some point. STILL, Indigo said some not very nice things about her and she doesn't even act like a true friend to Paige when this latter is always there if Indigo needs any help. I felt so so bad for Paige but what I didn't like is that the author made her sound annoying and like a stalker when all she wants, deep inside her, is a friend.
Another thing that I had problem with is…the whole story. I mean, in the end, I realized that everything that happened wasn't supposed to happen, that it could have been easily avoided. I mean…everything they did ended up being for nothing, when they discovered the truth!
Also, beware: cliffhanger.
Would you consider voting for this review on Goodreads, if it were helfpul?