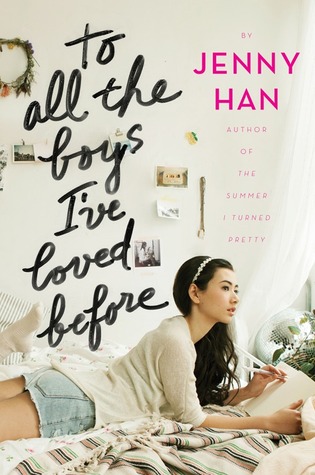 To All the Boys I've Loved Before by Jenny Han
My rating: 3 of 5 stars
Received: Goodreads First Reads
Publication Date: April 15th, 2014
Publisher: Simon & Schuster Books for Young Readers
Genres & Themes: YA, Contemporary, Romance, Siblings, Friendship, Trust, Family.
BLURB:
To All the Boys I've Loved Before is the story of Lara Jean, who has never openly admitted her crushes, but instead wrote each boy a letter about how she felt, sealed it, and hid it in a box under her bed. But one day Lara Jean discovers that somehow her secret box of letters has been mailed, causing all her crushes from her past to confront her about the letters: her first kiss, the boy from summer camp, even her sister's ex-boyfriend, Josh. As she learns to deal with her past loves face to face, Lara Jean discovers that something good may come out of these letters after all.
MINI-REVIEW:
Lara Jean is that sweet caring girl every parent wish they had. She has that thing about writing letters to every guy she loves as a goodbye. Except she never plans on mailing them. So, when someone does, it turns her world upside down.
Guess what? Lara Jean is Korean! I was happily surprised to discover that since I think it's the first time I read a novel with a Korean main character. Chinese? Yes. Japanese? Yes. Korean? Nope.
This story was sweet, funny sometimes, adorable and charming. I especially liked the bond Lara Jean and her sisters have, and how friendship and family is important to her. I actually saw myself a lot through her, and I think it's a really good thing when teenagers can relate to characters.
Jenny Han has the beautiful talent to make you feel like you're in the story, next to the characters, and feel every one of their emotions.
Ok, now I really want to read Burn for Burn.
View all my reviews on Goodreads.
GIVEAWAY
One RANDOM winner will win (on September 6th!) an advance copy of To All the Boys I've Loved Before by Jenny Han and a beautiful necklace (which would go well with the girl on the cover's outfit, hehe!)

Good luck! 😀
PS. I know it's very (too) soon to actually celebrate a blogoversary but I just had such a wonderful month (thanks to you guys!) so I really wanted to host a giveaway. ^^