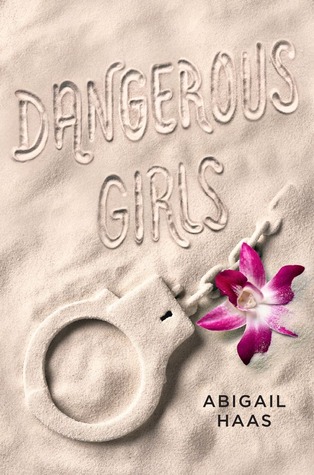 Dangerous Girls by Abigail Haas
My rating: 5 of 5 stars
Received: bought
Publication date: July 16th, 2013
Publisher: Simon Pulse
Genres & Themes: YA, Mystery, Thriller, Crime, Suspense, Romance, Contemporary, Holidays, Friendship.
BLURB:
It's Spring Break of senior year. Anna, her boyfriend Tate, her best friend Elise, and a few other close friends are off to a debaucherous trip to Aruba that promises to be the time of their lives. But when Elise is found brutally murdered, Anna finds herself trapped in a country not her own, fighting against vile and contemptuous accusations.
As Anna sets out to find her friend's killer; she discovers hard truths about her friendships, the slippery nature of truth, and the ache of young love.
As she awaits the judge's decree, it becomes clear that everyone around her thinks she is not just guilty, but dangerous. When the truth comes out, it is more shocking than one could ever imagine…
REVIEW:
I can't believe it.
Have you ever read a story that you completely, absolutely loved but that freaked you out so much you're not even sure you can keep the book in your room anymore? This book is dangerous. It makes you feel joy, sadness, hope, betrayal and your heart will be on the edge at ever end of chapter. A massage would be perfect right now. Or lying on the beach…NO, not a beach. EVERYTHING but a beach, especially in a foreign country.
That's how I felt (and still feel) about this book the whole time I was reading it. I'm not sure I could ever read it again but my reading experience has been one of a kind and I actually want you to experience it as well. This book will impress you, one way or another, I am sure of it. Abigail Haas is one talented author.
I'll never forget this story. It probably will haunt me for some time, yes, but I will deal with it. It's a thriller and you certainly will feel it. I only started reading this genre recently (same thing for comics) but I assure you that many other reads in that genre will follow.
When I look back, it's crazy how much I felt connected to our main character, Anna, who was accused of killing her best friend, Elise. Oh, how much I despised Elise. She's the kind of person that brings trouble everywhere she goes and steps. I know some people in real life like that and I even started thinking that maybe that's just how they are, not necessarily doing it on purpose. But, DAMN, that girl is asking for it.
You will probably realize that Elise is a very very similar character to Alison from the Pretty Little Liars series because 1) she manipulates people, 2) constantly flirts with guys, 3) has that attitude as if nothing can get to her. Plus, hey, she was murdered.
The pacing was fast and, with that story, it just grips you and doesn't let go until to HAVE to take a break because this is not a happy 'rainbows and sunshine' story and reading it in one sitting can be…overwhelming.
The writing? Perfect. I don't give five stars often but I found nothing in this book that could have been a weakness to it or that I didn't enjoy. Truth be told, I had doubts before starting this read. Was I going to enjoy it? What is it about anyway? Some people doing crazy stuff on Spring Break? Well, it's more than that. Spring Break is not even the reason why all of 'this'—meaning the crazy stuff—happened and I am eager for you to discover what the story contains. Its secrets.
There are also some (mild) similarities to the movie Spring Breakers which I enjoyed watching even though, when I look back, I realize that it had a very poor plot. This book is a masterpiece without a doubt and I am looking more than forward to reading Dangerous Boys.
View all my reviews on Goodreads.