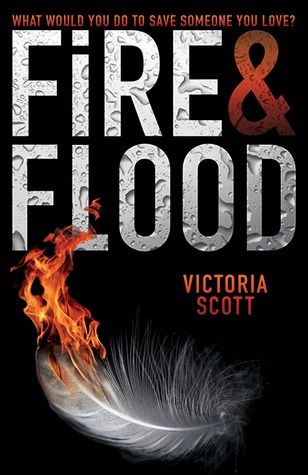 Fire & Flood by Victoria Scott
My rating: 2 of 5 stars
Received: borrowed
Publication date: February 25th, 2014
Publisher: Scholastic Press
Genres & Themes: YA, Science Fiction, Fantasy, Survival, Trust, Romance, Adventure, Action.
BLURB:
Tella Holloway is losing it. Her brother is sick, and when a dozen doctors can't determine what's wrong, her parents decide to move to Montana for the fresh air. She's lost her friends, her parents are driving her crazy, her brother is dying—and she's helpless to change anything.
Until she receives mysterious instructions on how to become a Contender in the Brimstone Bleed. It's an epic race across jungle, desert, ocean, and mountain that could win her the prize she desperately desires: the Cure for her brother's illness. But all the Contenders are after the Cure for people they love, and there's no guarantee that Tella (or any of them) will survive the race.
The jungle is terrifying, the clock is ticking, and Tella knows she can't trust the allies she makes. And one big question emerges: Why have so many fallen sick in the first place?

REVIEW:
Fire & Flood is a VERY disappointing read. Of course, I've read some reviews and saw that many said it had a lot of similarities to The Hunger Games. I may be one of the few who thought that, but I didn't mind that fact before picking it up. As long as it's good and not 100% similar to that book. Fortunately, it's not The Hunger Games all the way.
Tella is a normal teenager who just moved out to Montana with her family. She is loved by her parents but unfortunately, her brother is ill and she wants to save him desperately. When the chance of a lifetime presents itself to save her brother, she immediately takes it and decides to participate to the Brimstone Breed competition. Throughout that competition, she will meet some new friends and allies, make some enemies, fall in love and live a perilous adventure in the jungle and desert. Sounds not so bad, right? I would have thought the same thing at your place but, the thing is, this book was boring.
And repetitive. Before entering the competition, she has to choose an egg which contains a Pandora (animal with superpowers.) That element is quite interesting but, in fact, their superpowers are not amazing or breathtaking at all. Then, when she's in the jungle, she decides to follow this unfriendly looking guy who looks as if he knows where he is going. And she sleeps not far from him. That is so careless. Tella is the kind of character that acts as if she didn't care what people thought (in the annoying way) and does so many frustrating things that normal people would think about twice before doing them. Needless to say, I didn't connect nor liked her. She can die in the sequels, I won't give a care.
The story has potential but lacks of world-building, seriousness, depth, endearing characters, interesting challenges and purpose. Why Brimstone Breed is created is barely explained. I don't get why there aren't cameras following the Contenders. I mean, what's the point of having this challenge if no one can see it? Maybe because that would mean a The The Hunger Games remake? Still, its purpose is basically vengeance and I think that's a weak and mischievous one. Victoria Scott could have found a better one! Right?
I love animals, I do. I care about the animals presented in this book. But, there were so many! I simply got tired of them. They were really the center of attention and, I don't know, I wanted more danger, perilous challenges and also, since we're at it, less killing each other when it isn't even mandatory!
The writing wasn't bad. It was actually pretty fine and the pacing mostly fast so that made the reading easier. There really aren't many negative things I could say about it. I would have appreciated if there were fewer sentences with purpose to make something look important and poignant. It was annoying and it's like the author wanted to make the book deep and serious but it didn't work because the main character doesn't have the personality for. She laughs when it isn't the time to and it just feels like they aren't veritably in danger. I didn't feel any stress or heart pounding during my reading, sadly, as I did in The Hunger Games.
Overall, I think some people would like this book, but I definitely don't recommend it to everyone. Maybe give it a try if you haven't read The Hunger Games, like competitions and like when there are (a lot of) animals in books.
View all my reviews on Goodreads.