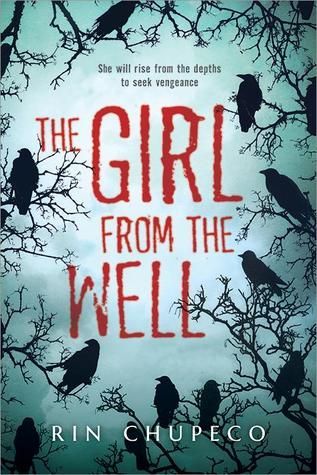 The Girl from the Well by Rin Chupeco
My rating: 2 of 5 stars
Received: bought
Publication date: August 5th, 2014
Publisher: Sourcebooks Fire
Genres & Themes: YA, Paranormal, Mystery, Retellings, Legend.
BLURB:
A dead girl walks the streets.
She hunts murderers. Child killers, much like the man who threw her body down a well three hundred years ago.
And when a strange boy bearing stranger tattoos moves into the neighborhood so, she discovers, does something else. And soon both will be drawn into the world of eerie doll rituals and dark Shinto exorcisms that will take them from American suburbia to the remote valleys and shrines of Aomori, Japan.
Because the boy has a terrifying secret – one that would just kill to get out.
REVIEW:
Is this really supposed to be a horror book? Like…for real? I'm surprised to say this, since I usually never read this genre (because of the chicken that I am), but I found it very dull and never did I have some goose bumps while reading. Goose bumps are mandatory to me when reading a (supposedly) horror and creepy story.
If someone who has read The Forbidden Game by L.J. Smith and couldn't sleep ALL NIGHT says this book was not scary, believe that person. On the other hand…that book was very different compared to this one.
It just didn't have an atmosphere. And I don't mean that it was calm. That (highly important) element was just not present, unfortunately.
The narration was interesting, Okiku sometimes names a person doing an action and other times refers to him/her as 'the girl', 'the young boy', 'the woman', etc. It was original.
Sadly, our narrator and main character doesn't have much of a personality (due the lack of atmosphere, I presume?) Some can say it is normal since she is a spirit but I've read and saw movies in which a spirit/ghost has a hell of a personality/attitude. I guess since she isn't bad nor good, she can easily be liked by readers and I admit that I didnotnot like her. She just lacked.
Japan's culture and legends were original and enjoyable to read about, except that Okiku's legend was just so…unrealistic—yes, I know. It is not a contemporary, I understand. BUT, I read some fantasy/paranormal stories that totally made believe in the demons, witches and those weird things that can 'kill the world' inside them. I would have appreciated to learn more about the spirits and especially the girl in black. More of a backup would have been very welcome.
The writing was good but, since there was a lack of atmosphere, it didn't help with making my reading experience pleasant. If only there were one…I know I would have liked this book so much better.
Also, the men that killed young girls and boys, why did they do it? I mean, I understand that some were simply psychopaths, but I needed some reasons, whatever they could be and that in order to make those kills more realistic to my eyes.
Final verdict: It's not a book I would personally recommend since some elements in this book weren't of my liking and there are ones that could have been so much better. ALHTOUGH, it was original in its genre (I guess—lack of experience with it) and unpredictable, which is certainly a very good thing.
View all my reviews on Goodreads.