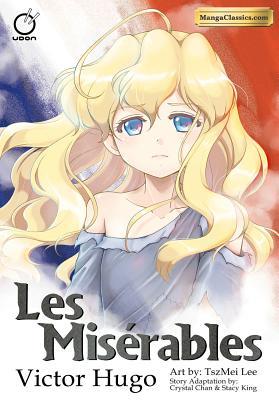 Manga Classics: Les Miserables by Stacy King
My rating: 3.5 of 5 stars
Received: NetGalley
Publication date: August 12th, 2014
Publisher: Udon Entertainment
Genres & Themes: Love, Classic, Action, Liberty, Historical, Family, Manga, Revolution.
MINI DESCRIPTION:
Adapted for stage and screen, loved by millions, Victor Hugo's classic novel of love and tragedy during the French Revolution is reborn in this manga edition!
REVIEW:
This was a very poignant story. Actually, I don't recall ever reading a manga that brought tears to my eyes. Be aware that you won't turn the last page with the same emotional state as when you turned the very first.
This is an adaptation and not a retelling. While I haven't read the classic, I know a bit of its story and I'm pretty sure that the content in this manga is very similar to the original story. Plus, after reading Manga Classics: Pride & Prejudice, I do trust the author on that point.
While I thought this was an emotional yet very enjoyable read, there are some elements that could have been better, especially regarding the art.
For example, Cosette (daughter of Fantine), as she grows up, has a too similar appearance as when she was a little kid and even in her personality. I also didn't see much change in her personailty which is not a BAD thing since she is a wonderful person but that did make her character less realistic.
Also, Marius is…cute but way too simple as for his appearance. I'm not sure how he was meant to be in the book, but I just looked up the actor in the new movie adaptation and the man playing his character is so handsome compared to the one in this manga.
Look at how handsome he is in the movie:
That's how he was supposed to look in the manga as well.
STILL, the art was very beautiful and it portrayed the society very well. Almost every character felt alive and they were the ones making this manga as good as it is, in my opinion.
While the plot is filled with twists and turns and heart wrecking scenes, there were some times when everything went just…too fast!
Everything is explained well and I can easily tell you the story myself after reading this but I think a good 100 more pages would have been very welcome, ESPECIALLY regarding the scenes in which Cosette and Marius fell in love because I had trouble, during the reading, believing in their love as much as I'd wished to. The ending made up for it a little though. It was wonderful yet heartbreaking.
Really, the manga was well done and the dialogs very realistic for that Century. It did made me want to read the original classic but I am sure I will do so in French (language I'm the most familiar with) since I'm positive the story is more complicated and detailed in the novel.
Recommended for lovers of beautiful mangas and Les Misérables. There are some pretty great themes in this story that'll even make you think for a second at how lucky you are. Because you, who are able to read this right now, are.
View all my reviews on Goodreads.