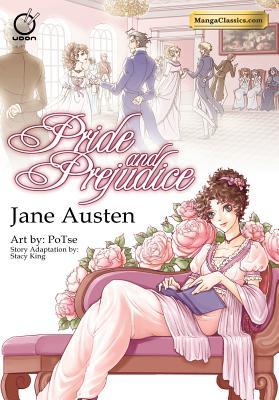 Manga Classics: Pride & Prejudice by Stacy King
My rating: 4.5 of 5 stars
Received: NetGalley
Publisher: Udon Entertainment
Publication date: August 11th, 2014
Genres & Themes: YA, Manga, Historical Romance, Classics, Family, True Love.
DESCRIPTION:
Beloved by millions the world over, Pride & Prejudice is delightfully transformed in this bold, new manga adaptation. All of the joy, heartache, and romance of Jane Austen's original, perfectly illuminated by the sumptuous art of manga-ka Po Tse, and faithfully adapted by Stacy E. King.
REVIEW:
The idea of making manga adaptations of classics is simply genious and I literally can't wait to see if Little Women will be made in a manga as well for it is my second favourite classic after Pride and Prejudice.
Now this adaptation wasn't perfect or one hundred percent accurate. There is even an epilogue at the end which we all know is not included in the original classic. Did the fact of not following the exact same plot bother me? Not at all since these changes were small and the story is still intact and beautiful as it has always been.
If you're a fan of the Pride and Prejudice classic and its movie, then I highly recommend you to read this manga.
The art was fantastic! Now I know many mangas are more concentrated on the plot and dialogs than the art but this one truly had it all. Mr. Darcy was stunningly pictured with the personality we all know he posses.
Unfortunately, I disliked how Elizabeth's hair was drawn. Her hair was rather horrible by moments and I imagined something more subtle for her. Her character was fine but she easily got very emotive which, again, is not the Elizabeth I know.
This is how her hair was supposed to be, in my opinion:
I also had a problem with Mr. Collins' character. Why was he acting so ridiculously? He is supposed to be shy and lack of self-esteem (sounds harsh but it's true) when what I got is a clown-like hyperactive personage. He didn't even look human…
That's all for the negative since, really, this was a fantastic adaptation and I will buy this title the minute it will be released (which is soon.)
The character I always enjoyed the most reading about, for she is very entertaining, is the five girls' mama, Mrs. Bennet. She was hilarious in this version and VERY similar to the actress in the 2005 movie adaptation. As well as Jane and Mr. Bingley in fact, which I really appreciated since it personally is my favorite movie and it was amusing to see the characters 'again.'
If only Elizabeth and Mr. Collins had been more…true to their characters, I would have given a complete 5 star rating to this title.
STILL, I had so much pleasure reading it and connecting with the characters that it didn't bug me that much. Also, the roses that were drawn on some pages, surrounding the characters, were so pretty and I can't help but say that the artist did, without a doubt, an amazing job.
I am more than eager to see and read the other manga, Les Miserables, in this new collection.
**ARC provided via NetGalley in exchange for an honest review.**
View all my reviews on Goodreads.