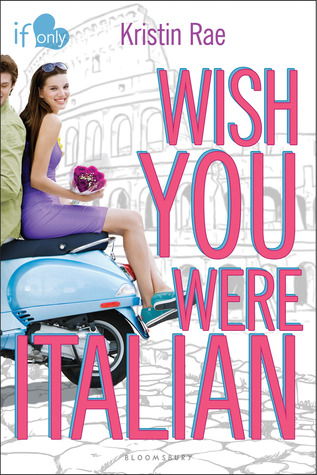 Wish You Were Italian by Kristin Rae
My rating: 3 of 5 stars
Received: borrowed
Publication date: May 6th, 2014
Genres & Themes: YA, Traveling, Romance, Contemporary, Summer, friendship, family.
BLURB:
Pippa has always wanted to go to Italy … but not by herself. And certainly not to sit in art school the entire summer learning about dead guys' paintings. When she steps off the plane in Rome, she realizes that traveling solo gives her the freedom to do whatever she wants. So it's arrivederci, boring art program and ciao, hot Italian guys!
Charming, daring, and romantic, Bruno is just the Italian Pippa's looking for—except she keeps running into cute American archeology student Darren everywhere she goes. Pippa may be determined to fall in love with an Italian guy … but the electricity she feels with Darren says her heart might have other plans. Can Pippa figure out her feelings before her parents discover she left the program and—even worse—she loses her chance at love?
REVIEW:
What an adventure! This is such a lovely summer read filled with romance, friendship and, if you didn't realize it already, ITALY!
Pippa's best friend, Morgan, gave her a journal with plenty of 'tasks', so she doesn't fear boredom, of course! Her first one is in fact making a list of 10 goals she has to achieve before leaving Italy. One of her challenges is to, wait for it, fall in love with an Italian! Now that's one dangerous challenge…
The reason she was sent to Italy, by her mother, was for her to study Art History. In a school. During summer. Although, since her classes start on Wednesday and she arrived to Italy on Saturday, Pippa decides to spend some time visiting since, let's face it, she's in ROME and no one can just leave Rome without visiting some of the most magnificent places.
Except…she ends up not going to Florence, where the school is, at all.
I must admit that it was a surprise to learn that. Pippa sure didn't feel like studding Art History at all and I sympathized with that fact but I then also thought she might meet some people there and maybe even enjoy her studies. On the other side, her father did give her a lot of money for her to spend so it's not like she didn't have a choice.
About Pippa's best friend Morgan…she felt fake. She's the kind of person that is ALWAYS in a good mood and there for you, the perfect friend when, in my opinion, perfection doesn't exist. She mostly annoyed me with her too enthusiastic personality but, on the other hand, if that kind of friend does exist, Pippa is lucky to have her.
Pippa was, generally, a good main character. She's honest with people around her and fun. Like ever character, there are some stuff that I minded about her. She's not very mature, realistic and fair, especially regarding her mother.
She keeps saying that her mother doesn't care about her like we need to pity her but she doesn't actually explain the why to us. All she's saying is that her mother only cares about her work and not about what Pippa wants. It almost made me feel like the author included this kind of situation just so maybe we can connect more with her character but it wasn't executed that greatly.
The friendship she had with Chiara, a girl she met in Rome, was very true and beautiful. They had a connection and I felt it. Chiara is one of the secondary characters and she definitely was a good element in this book.
The romance…it was cute and nice to read about. I actually pretty much predicted it all and I'm sure you will as well, but it still was entertaining and heart-warming. There are two love interests in this book (which makes it a love-triangle), Italian boy Bruno and mysterious one Darren. I absolutely preferred Darren because he has a special charm that I found very real and that affected me (in the good way.)
The writing is good and fast-paced. Again, a recommended pretty and light summer read to relax and simply have a good time. Also, it is read as a standalone.
View all my reviews on Goodreads.