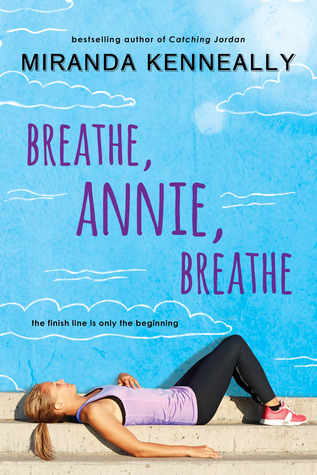 Breathe, Annie, Breathe by Miranda Kenneally
My rating: 3 of 5 lovely stars
Received: bought
Publication date: July 15th, 2014
Genres & themes: YA, Romance, Contemporary, Sports, Family, Death, Guilt.
BLURB:
Annie hates running. No matter how far she jogs, she can't escape the guilt that if she hadn't broken up with Kyle, he might still be alive. So to honor his memory, she starts preparing for the marathon he intended to race.
But the training is even more grueling than Annie could have imagined. Despite her coaching, she's at war with her body, her mind—and her heart. With every mile that athletic Jeremiah cheers her on, she grows more conflicted. She wants to run into his arms…and sprint in the opposite direction. For Annie, opening up to love again may be even more of a challenge than crossing the finish line.
REVIEW:
Eighteen years old Annie is training for the Country Music Marathon, a marathon she wants to participate for Kyle…her dead boyfriend. A death she feels responsible for and one she can't stop thinking about.
It actually takes a lot of pages in this book for us to truly know what happened to Kyle. The moment I was beginning to lose patience, that's when I learned everything.
While she is training, she meets this handsome, sexy, in shape, swoon-worthy guy who she learns is her coach's (Matt) brother, Jeremiah. Jeremiah was a player, a fanatic of extreme sports and the kind to 'mess things up.' Now, he started working for his brother and wants changes in his life. But… can one truly change who they are and love?
I doubted that and still do after finishing this book.
I don't necessarily think that it's an impossible thing. I just…wasn't convinced; the author didn't convince me.
Annie is… I have nothing negative to say about her. I'm trying and searching but the only thing I can say is that she is so… lucky! Of course, not for her boyfriend's death but, for everything that happens in this book, she is. First, for meeting Jeremiah before this latter was introduced as the new coach's assistant. Then, for being asked to be a roommate at the college she'll be going without even expecting the proposition. Third, for Jeremiah to being interested in her and for doing so well in her training when she, apparently, doesn't have the knees for a long distance runner. Also, for Jeremiah's sister to 'fall in love' with her. Finally, because I need to stop somewhere, for being accepted so easily for a job she just applied to. You can even say that Annie has it all.
I didn't mind that about her though, and I do think her character made this story feel like a 'fairy tale' which is not a bad thing here.
There are also some deep moments when Annie is replaying memories with Kyle in her head. I did think those were cute, beautiful, and a bit emotional but, whenever she was telling us readers or some other people about what happened to Kyle, I never felt anything in her voice. Everything that came out of her mouth seemed very flat to me.
The writing was good and I did think the story was original since I don't read many sport themed books. Because of that fact and since I did like this story and reading it, I will read the previous ones in the series. Yes, this is my first Hundred Oaks book. Not my last for sure though. And, if you're wondering, this can be read as a standalone. Although, of what I heard, there are some cameos from characters from the previous books.
Final verdict: I did like this book that in fact made me want to put some gym clothes on and run run run until I can't anymore. Did I do it? No. Will I do it? Probably, since I'm still thinking about this cute story.
PS. How cool is that cover?
View all my reviews on Goodreads.