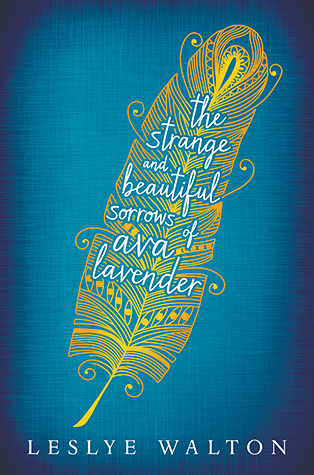 The Strange and Beautiful Sorrows of Ava Lavender by Leslye Walton
My rating: 3 of 5 stars
Received: borrowed
Genres & themes: YA, family, friendship, love, angel, mystery, magical realism.
BLURB:
Foolish love appears to be the Roux family birthright, an ominous forecast for its most recent progeny, Ava Lavender. Ava—in all other ways a normal girl—is born with the wings of a bird.
In a quest to understand her peculiar disposition and a growing desire to fit in with her peers, sixteen-year old Ava ventures into the wider world, ill-prepared for what she might discover and naïve to the twisted motives of others. Others like the pious Nathaniel Sorrows, who mistakes Ava for an angel and whose obsession with her grows until the night of the Summer Solstice celebration.
That night, the skies open up, rain and feathers fill the air, and Ava's quest and her family's saga build to a devastating crescendo.
REVIEW:
This book was original, well-written and had some memorable characters but there were unfortunately some flaws in my opinion.
Ava Lavender, a beautiful girl possessing wings and main character, doesn't even really appear in the plot before its 50% (on average.) That is one of the small problems I had with this book since I got tired of hearing about Ava's ancestors and mother' stories. It was interesting, captivating and intriguing at first but then it felt too much and I wanted more. Wanted Ava.
Second, in this book there are many tragedies which I thought brought a unique atmosphere to the story and made some characters and situations feel even more realistic, which is a funny thing to say since The Strange and Beautiful Sorrows of Ava Lavender is a magical realism themed book and there are many oh so many things in this book that could never oh so never happen in reality.
Another little thing that made me lower my rating was the fact that I was waiting for a tragically, beautiful, angsty and swoon-worthy love story when what I got was in fact a can-be-predicted, ordinary, could-happen-to-everyone love story for Ava, her mother and her ancestors' characters since we're at it.
The writing is very pretty and impressive I shall say. I found the dialogs perfect and, even though there weren't many, I wouldn't change a thing in there.
There are many characters in this story that you'll love and then hate or that you'll HATE and then love. Some can disappoint you, when others can surprise the hell out of you. You're in it for a treat, if that's what you're looking for. Personally, there were some characters I wished didn't change when that's what they did and there were others I wished didn't listen to their head but their heart instead and vice versa.
I can see why so many people loved this book. It's (the plot) like a breath of fresh air on a hot summer day; riveting.
You also need to know that the pacing is slow and many descriptions are present (due, we can say, the low amount of dialogs.)
The final problem I had regarding this book is that, even though the story is mainly set in the 50s, I didn't exactly feel it as I may have been supposed to. I didn't quite feel the historical part of this novel and even often forgot about it. The way they talked sometimes gave clues, but other times it didn't.
Finally, this IS a book I think many people would like because, like I said, it's refreshing in a way and beautifully written which, of course, is always a good thing. If you like magical realism themed books, I would also recommend The Night Circus which I loved.
View all my reviews on Goodreads.