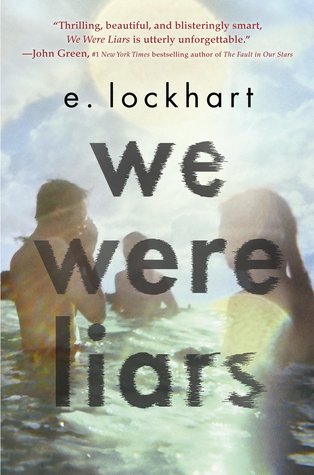 We Were Liars by E. Lockhart
My rating: 1 of 5 stars
This is the kind of book that, when I finish reading, I'm like FINALLY and then throw the book out of the window (in this case not applicable because of digital copy.)
But really, what a weird story and an uncomfortable and pretentious atmosphere this We Were Liars book has. It wasn't long, thank God, but damn it was painful to read. This is my 3rd negative review/read this week and I'm seriously pissed but will try to keep it cool.
I didn't get
the purpose of this book.
Why were they called
Liars anyway? Okay
they lied but who doesn't?
Why are they supposed to
be so
special? Because
some of them are rich? So what?
Many people are as well and it
doesn't make them
more
interesting/special.
(Did it annoy you? How I just wrote what I wrote? If it did, this is not the book for you.)
It's like the author wanted to make this story 'phenomenal' and so damn poignant and thought that by adding some metaphorical sentences, a different writing style and a heavy recycled subject she would succeed. But she didn't. At least, not for me. I personally thought it felt very pretentious and TOO MUCH. The pacing is uneven and the story very repetitive. The characters, except maybe for Cady, the MC, are one dimensional and I couldn't connect with any one of them.
Again with the subject, is it mainly about…rich-wants-to-date-'poor'-guy-aka-love-of-her-life-but-can-t-because-family? So confusing… but I guess that's it since THAT started a lot of stuff. The love story, by the way, is so so so dull. This is all because of the hype…
Oh, the hype was there. It.IS.There. But we all know hype lies and loves doing it.
This is not the type of book I usually read because it feels, just by reading the 'synopsis' (really? couldn't this book have at least a normal synopsis?) too sad/dark/eerie for me but, HEY, we all need to step out of our comfort zone from time to time. PLUS, John Green praised this book. He
"Thrilling, beautiful, and blisteringly smart, We Were Liars is utterly unforgettable.
John Green, #1 New York Times bestselling author of The Fault in Our Stars"
praised this book. And, since I finished reading The Fault in Our Stars not so long ago and loved it, I thought I'd trust Green's judgement.
Except, it was boring. Boring. Boring. Boring. The only parts I felt myself enjoying reading are the little 'stories' with the king and his 3 daughters.
I really don't recommend this book. It's a waste of time because it's confusing as hell and doesn't even have a nice/normally written ending.
I wish I could burn it.
View all my reviews on Goodreads.