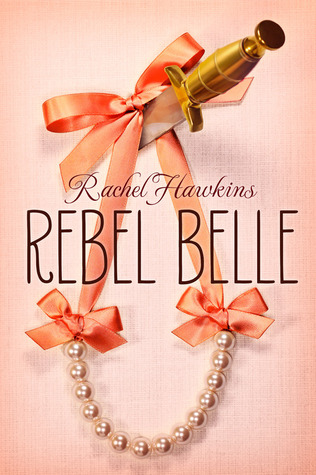 Rebel Belle by Rachel Hawkins
My rating: 4 of 5 stars
♥ 4 Loved it! stars ♥
This book was so much fun! A breath of fresh air! I actually read this book while eating popcorn. No kidding. If you're looking for something entertaining and purely enjoyable, I highly recommend you Rebel Belle. It also contains a little bit of creepy and/or strange scenes that are only going to make you want to read more and more of it.
Harper might seem to you, at the beggining of the story, a little too girly and vain, but she's actually not that way. She has her reasons why Homecoming is very important to her that you'll learn eventually in the story. I must admit that her one thousand dollars or more dress made me cringe my teeth. That excepted, Harper is mostly a normal seventeen years old teenager dating and loving a nice boy and expecting to pass a great evening at the Homecoming event accompanied by her boyfriend and best friends. Unfortunately, when the school janitor transmits her some weird thing while unexpectingly kissing her, everything changes. And that's when she becomes a kick-ass girl with new superpowers.
The writing isn't impressive but nice instead. Standard but efficient since a book like this one is better off complicated words and long sentences. It could've been prettier though. This book has a cool atmosphere that'll get you at ease and make the reading comfortable. The story might very likely seem to you either very interesting or fun. Or both. Either way, you'll enjoy it and found it adorable. I thought it was amazing and well done. It felt like watching a comedy/supernatural/drama/action movie. I loved it!
The romance was pretty clean. It was cute and sometimes sigh-worthy. And sometimes frustrating indeed. Previsible by moments but also enchanting. Sweet and rightly accompanying the story.
If you liked/loved Rachel Hawkins' other books, there are many chances you'll appreciate Rebel Belle too.
Happy reading! (And don't forget the popcorn and/or candy!)
View all my reviews on Goodreads.